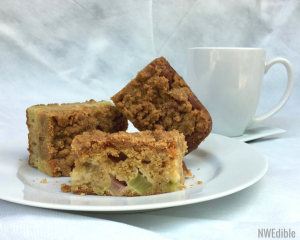 Ginger Rhubarb Coffee Cake
Yield 16
Ingredients
For The Crumb Topping
1/2 cup lightly packed brown sugar
1/4 cup granulated sugar
1 teaspoon ground cinnamon
1 teaspoon ground ginger
1/2 teaspoon salt
1/2 cup unsalted butter, melted
1 cup all purpose flour
For The Cake
2 cups all-purpose flour
1 teaspoons baking powder
1 teaspoon baking soda
1 teaspoon ground ginger
1/2 teaspoon salt
1/2 cup butter, softened
1/2 cup granulated sugar
1/2 cup lightly packed brown sugar
1 cup whole milk yogurt
1 large egg
1 teaspoon vanilla extract
1 pound chopped, fresh rhubarb (about 3 cups)
Instructions
Make the topping
In a medium bowl, mix brown sugar, granulated sugar, cinnamon and salt with a fork until blended. Pour in melted butter and stir to blend. Add flour and stir until blended - the mixture will look like a smooth dough. Set aside.
Make the cake
Line a 13 x 9 baking dish with parchment paper. Adjust the oven rack to the center position and preheat the oven to 350°F.
Sift the flour, baking soda, baking powder, ginger, and salt into a medium bowl. Set aside.
In the bowl of a stand mixer fitted with the paddle attachment, beat the butter until smooth. Add the granulated and brown sugars and continue to beat well. Add the egg and continue to beat until the mixture is light and fluffy.
Reduce speed to low and mix in the yogurt and vanilla extract, stirring until just combined.
Add the flour mixture to the butter-sugar mixture and mix on low until the flour is fully incorporated and the batter is uniform, but do not overmix. Scrape the bottom of the mixing bowl periodically. The cake batter will be very thick.
Remove the bowl from stand mixer and fold the rhubarb pieces into the batter by hand with a silicon or rubber spatula. The mixture will look like it's about half rhubarb, and quite chunky.
Scrape all the cake batter into the prepared baking dish. Work the batter gently all the way out to the sides of the pan, and smooth the top of batter with the spatula.
Add the topping over the cake batter by squeezing chunks of the crumb topping together with your fingertips. Drop these clumps evenly over the cake batter, covering cake completely.
Bake the coffee cake until a skewer or the tip of a knife inserted into the center comes out clean, 60-70 minutes. The crumb topping will be deep brown and slightly crisp, and the cake will have risen slightly in the pan.
Transfer the cake to a cooling rack and allow to cool in the dish for at least 30 minutes. Remove the cake from the dish by lifting it out with the parchment paper, and allow it to finish cooling.
Cut cake into pieces and serve slightly warm or at room temperature.
Recipe by Northwest Edible Life at https://nwedible.com/rhubarb-coffee-cake/