Some of my supporters over at Patreon have asked if there's a decent way to search through or keep track of the content I put up over there. So far, there really isn't. I love how Patreon is working out, but there are a few technical holes yet to be filled, like adding backdated content and channel search features.
So, at the end of each month, I'm going to archive all monthly Patreon content here. That should make it easier for my Patrons to search for the information they want to re-watch or access later.
This monthly post will also serve as a convenient and hopefully not-too-intrusive way to remind the rest of you that there's a whole treasure trove of additional content, tips, behind the scenes stuff, recipes, etc. – all available to you for as little as a dollar a month.
So if you haven't become a Patron, consider joining. It's pretty fun over there!

August Patreon Content
My #1 Tip For Peeling Peaches (Quick Video)
It can be tricky to make really attractive home-canned peaches. The first challenge is often peeling the peaches – here's how to make sure your peeled peaches end up nice and smooth.
Thinking About Permaculture Zones In The Urban/Suburban Garden (Long Video)
In this August long video I do a garden walk through while discussing the importance of the permaculture concept of zones. I discuss how to think of zones in an urban garden setting, how to think about resources outside your garden when considering your "zone" options, and the critical importance of considering how the various pieces of your productive home can fit together more efficiently to make your life easier.
August In-person Video Hangout Session A (In Person Live Hangout)
The theme this month: Cool Weather Gardening. Discussion on: season extension techniques; finding adaptable microclimates; appropriate cool weather varieties; cooking from the cool weather garden. Brief, 5-minute led introduction to the topic followed by group discussion, questions, and your ideas.
A Tip For Easy Just-Slightly-Creamy Vegetable Sauces (Quick Video)
Here's one extremely simple way to turn your garden veggie mash-up into an easy, slightly creamy sauce.
Pre-Sugaring Zucchini Draws Out So Much Water! (Quick Video)
Super fast video to show the results of pre-sugaring shredded zucchini before using the squash in baked good.
An Easy Trio Of Tomato Cucumber Salads (Quick Video)
Start with the summer trio: tomato, cucumber, and sweet onion. Now take that base into a bunch of different easy summer salad directions just by changing up your mix-ins and acid.
Cougar Gold Cheese Factory Tour (Long Video)
This long video is a behind the scenes tour of the Washington State University Creamery, where they make Cougar Gold Cheese.
Oliver Just Cut Down All My Kale (Behind The Scenes)
Thinking About Cucumber Organization (Quick Video)
With a glut of various types of cucumbers, the first step before preserving or pickling or slicing is to sort and organize.
Bulk Fruit From Valicoff Farms – Request for Techniques? (Quick Video)
I broke down and bought bulk tomatoes, pears, peaches and nectarines from Valicoff Farms, my orchardists in Eastern Washington. I have some pretty boring plans for a bunch of this fruit (dehydrating), but if there are any requests I can make sure to demonstrate and film steps or processes as I do them.
Indian Spiced Zucchini Pickle Recipe (Recipe)
Round Two of Harvest Canning: Salsa, Corn Relish, Plum Sauce (Quick Video)
Preserved corn, tomatoes, zucchini, yellow plums and beans.
It's Not About Charlottesville But It Is (Essay)
Does anyone know what this is? (Behind The Scenes)
Exploring Sandpoint ID I found a lovely stainless steel kettle thing with a spigot.
Visiting the Moscow, Idaho Farmers Market (Quick Video)
Join me as I explore some of the great local vendors at this Inland Northwest farmers market.
August Patron Letter: Updates & Slow and Steady Food Preservation (Essay, Patron Letter)
Behind the Scenes: A Day of Canning (Quick Video)
Aronia preserves, Blackberry jam, Beet relish and more.
How To Make A Vinegar Jug Scoop (Quick Video)
Just made pickles? Don't recycle your vinegar jugs – reuse them!
Cucumber Salad with Yogurt Cumin Dressing (Quick Video)
This is an easy, healthy summer salad – it's somewhere between a southern-style cucumber sour cream salad and Indian raita.
Help! What Should I Make With All These Peaches? (Quick Video)
A call for Patron suggestions for how to preserve beautiful fresh stone fruit.
What A Difference 4 Days Makes: The Garden After A Weekend Away (Quick Video)
I'm back from vacation and after 4 days away it's mostly good news in the garden, but man is there a lot to harvest!
•          •          •
Want to support this site, get immediate access to over 100 Patron-only posts, and earn wicked-good web-karma? Consider becoming a Patron today.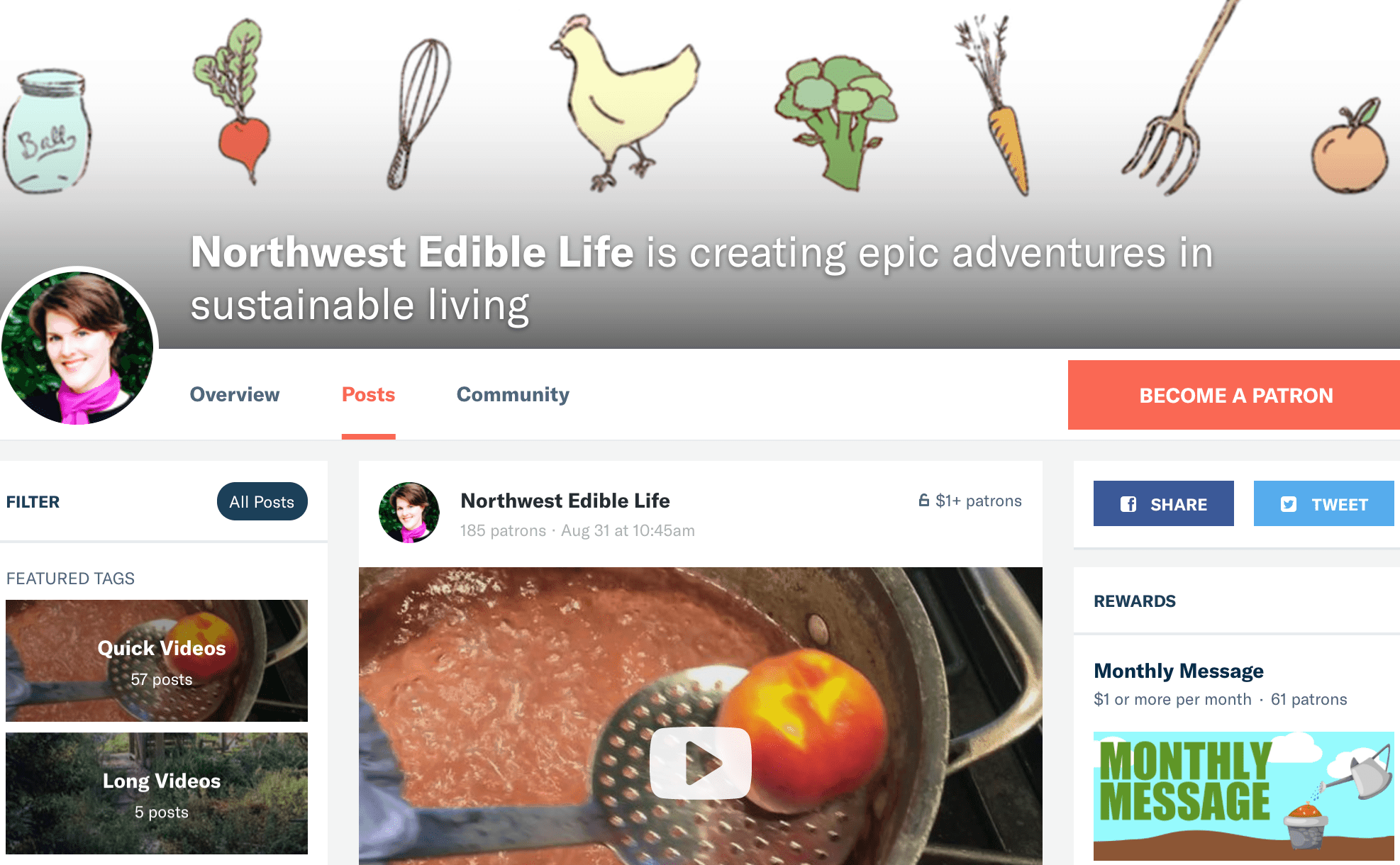 1