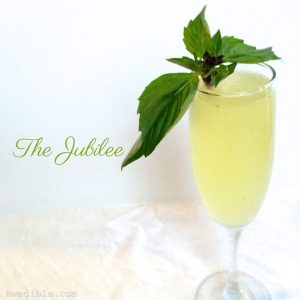 The Jubilee Cocktail
Yield 1
The perfect celebratory sparkling cocktail for a special occasion.
Ingredients
4 leaves Thai Basil, plus more to garnish
1 oz gin
1/2 oz St. Germain, or other elderflower liqueur
1 oz freshly squeezed grapefruit juice
1/2 oz freshly squeezed lemon juice
2 - 3 oz Prosecco or other sparkling wine
Instructions
Muddle the Thai basil in a cocktail shaker or mason jar.
Add the gin, St. Germain, grapefruit juice and lemon juice to the shaker, and fill shaker with ice. Shake hard for 15 to 30 seconds, then strain the cocktail into a champagne flute.
Top the drink with Prosecco and serve immediately.
Courses Cocktail
Recipe by Northwest Edible Life at https://nwedible.com/jubilee-cocktail/