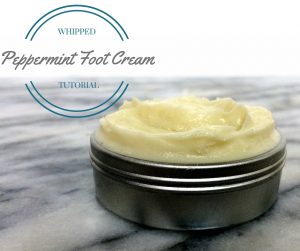 DIY Super Moisture Whipped Peppermint Foot Cream
Ingredients
15 grams beeswax, pastilles or finely chopped bar
30 grams shea butter
30 grams cocoa butter (see note)
60 grams grapeseed oil (see note)
20 grams vegetable glycerin (optional, but nice)
1/4 tsp Vitamin E oil (optional, but nice)
15 drops peppermint essential oil
10 drops tea tree essential oil
10 drops lavender essential oil
1 tsp cornstarch
Instructions
In a pyrex measuring cup or wide-mouth mason jar, carefully measure the beeswax, cocoa butter, shea butter and grapeseed oil.
Microwave these oils on medium power. Alternately, add the pyrex cup to a shallow pot of water and bring the water to a simmer. Heat the oils until the beeswax is fully melted.
Allow the oil mixture to cool just until it begins to solidify, then stir in the glycerin, Vitamin E oil and essential oils.
Allow the cream to cool completely at room temperature.
Using a spatula, transfer the cream to the bowl of a stand mixer fitted with the paddle attachment. Turn the stand mixer on to medium speed, to break up and begin to whip the cream.
After about 30 seconds, or when the mixture is beginning to look more pale and creamy, turn the mixer off and sprinkle the cornstarch evenly over the cream.
Turn the mixer back on to low speed, just to incorporate the cornstarch. After the cornstarch seems mixed into the cream, turn the mixer to high speed and whip the cream until light, fluffy, and opaque - the cream should look much like whipped frosting.
When the cream is whipped, transfer it to tins or small mason jars.
Kept at cool room temperature in an airtight container, the cream should last at least 6 months, though the essential oil scent may fade with time. Keep away from excessive heat and direct sunlight, which can cause oils to turn rancid prematurely and may melt the cream, causing it to separate.
Notes
An additional 30 grams shea butter can be substituted for the cocoa butter if you prefer not to keep both butters on hand. If using all shea butter, you will use a total of 60 grams shea and no cocoa butter. All other measurements remain the same.The essential oils are optional. Substitute other skin-friendly essential oils as you like.Other liquid-at-room-temperature oils like sweet almond oil, avocado oil or olive oil can be substituted for the grapeseed oil if you have a distinct preference. The final texture or scent of the cream may change slightly with alternate oils.
Recipe by Northwest Edible Life at https://nwedible.com/diy-whipped-peppermint-foot-cream-2/