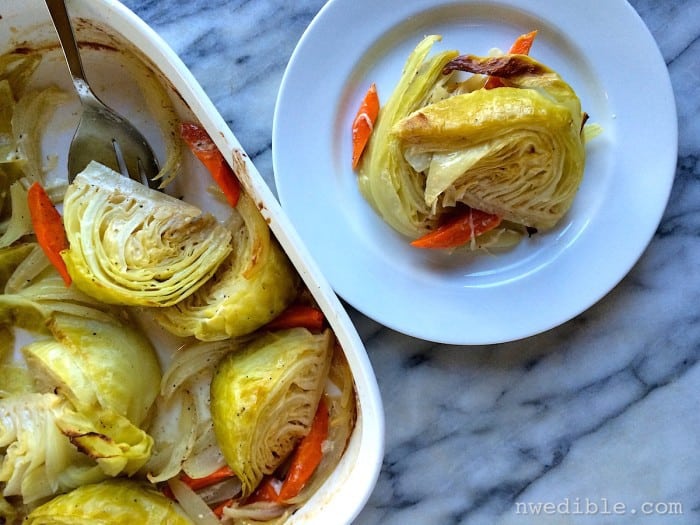 Simple Creamy Braised Cabbage
Yield 4 -6 servings
Ingredients
Butter, to grease baking dish
1 large head green cabbage
1 large yellow onion
1 large carrot
1/2 cup heavy cream
Kosher salt and freshly ground black pepper
Freshly ground nutmeg
Instructions
Adjust the oven rack to the lower-middle position and preheat the oven to 325 degrees. Lightly grease the inside of a large, 9x13 baking dish with butter.
Trim the cabbage of any ugly outer leaves, then cut the cabbages into 8 to 12 wedges, depending on the size of the cabbage. Leave the core of the cabbage intact so the cabbage wedges stay together.
Arrange the cabbage wedges in a single layer in the baking dish.
Peel, trim and thickly slice the onion and carrot. Scatter the onion and the carrot over the cabbage wedges.
Generously season the vegetables with salt, pepper and freshly ground nutmeg.
Pour the heavy cream over the vegetables, then cover the baking dish with foil and pop the whole thing in the oven for an hour.
After an hour, pull the baking dish from the oven and flip the cabbage wedges over. Then, recover the dish with foil and stick it back in the oven for another hour.
After two total hours of braising time, check the tenderness of the vegetables. The cabbage wedges, including the core, should be completely tender. The onion should be fully translucent and tender. If the vegetables are not totally tender, re-cover the pan and return it to the oven for another 20 to 30 minutes.
When the vegetables are totally tender, remove the foil from the baking dish and jack the oven up to 400 degrees. Let the vegetables cook at this higher temperature for about 25 minutes, until they begin to brown and the creamy-sauce thickens to coat the vegetables.
To serve, adjust seasoning with another sprinkle of salt and pepper, then spoon 2 wedges of cabbage and a generous portion of onions, carrots and sauce onto a plate.
Recipe by Northwest Edible Life at https://nwedible.com/creamy-braised-cabbage/