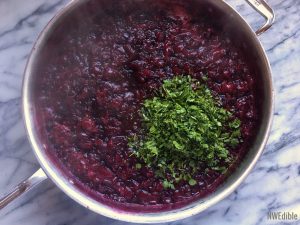 Cherry Salsa with Tequila and Cilantro
Yield 6 , 1/2 - pint jars
Ingredients
4 pounds dark, sweet cherries, stemmed, pitted and rough chopped
2 cups finely chopped red onion
1 garlic clove, peeled and minced
1 small, hot chili, such as habanero, seeded and minced
1/2 cup freshly squeezed lime juice
3 tablespoons brown sugar, or more to taste
1/2 cup chopped, lightly packed cilantro
1/4 cup tequila
1 1/2 teaspoon kosher salt, or more to taste
Instructions
If this is your first time canning, familiarize yourself with the process by reading this.
Prepare your jars, lids, canning kettle and tools for waterbath canning with 6, 1/2-pint jars.
Combine chopped cherries, red onion, garlic, chili pepper, lime juice, tequila and 3 tablespoons brown sugar in a large, wide, non-reactive pan.
Bring mixture to a boil over medium-high heat, adjust heat and simmer for about 10 minutes, stirring frequently, until mixture has thickened slightly and looks dark and glossy.
Add cilantro, tequila and salt and continue to simmer for 5 minutes, stirring frequently, until salsa is hot throughout. Taste and add additional brown sugar, salt or lime juice if desired.
Ladle hot salsa into hot jars, leaving a 1/2-inch headspace. Wipe jars, set lids as directed by manufacture, and transfer to a boiling waterbath canner.
Process jars for 15 minutes, adjusting for altitude. Turn off heat under canner and allow jars to sit 5 minutes in the canner.
Remove jars from canner to a draft-free location and allow to sit undisturbed for 24 hours to cool and set seals.
Notes
For a mild salsa, use a jalapeno or serrano chili. For a spicier salsa, use a habanero.
Recipe by Northwest Edible Life at https://nwedible.com/cherry-salsa-canning-recipe/