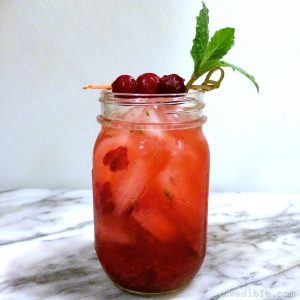 Tart Cherry Mint Mojito
Yield 1
A refreshing, juicy mojito variation with tart cherries.
Ingredients
1 tsp sugar
6 sprig fresh mint
1 wedge fresh lime
1/4 cup pitted tart cherries (fresh or frozen)
2 oz. light rum
1/4 cup club soda
Instructions
In a heavy duty glass or pint-sized mason jar, muddle together the sugar, mint, lime and tart cherries until the sugar is dissolved and the mint and cherries are broken up.
Add the rum and stir.
Fill the glass with ice, then top up with the club soda. Stir gently, then serve right away.
Courses Cocktail
Recipe by Northwest Edible Life at https://nwedible.com/cherry-mint-mojito/