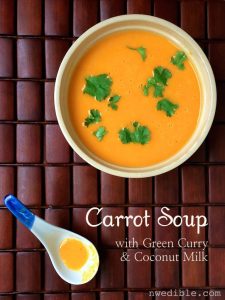 Carrot Soup with Green Curry and Coconut Milk
Yield 4 -6
Ingredients
1 tablespoon coconut oil or olive oil
1½ pounds carrots, peeled and rough chopped
1 medium onion, peeled and coarsely chopped
1 clove garlic, peeled and smashed
2 tbsp peeled, minced fresh ginger
1 - 2 tsp Thai green curry paste, to taste
3 cups vegetable or chicken stock
1, 15-ounce can coconut milk
1 bunch cilantro
2 tablespoon fresh lime juice, or more to taste
Salt or fish sauce to taste
Instructions
Heat oil in a large stockpot set over medium heat. Cook carrots, onion, garlic and ginger, stirring frequently, until onion is translucent, about 5 minutes. Add curry paste, stock and coconut milk. Cut the leaves from the cilantro and rough chop; set aside for garnish. Tie the cilantro stems with a length of kitchen twine and drop into the soup.
Lid soup and bring the soup to a gentle simmer. Cook for about 45 minutes, until carrots are falling-apart tender.
Fish the cilantro stems out of soup and compost. Puree the carrot soup with an immersion blender, or transfer in batches to a blender to puree. If using a blender, be very careful: only half-fill the blender jar, place a clean kitchen towel over the jar lid, and hold the lid down firmly while pureeing or else you may end up with soup on your ceiling. Return the pureed soup to the stove if necessary.
Add lime juice and season to taste with salt.
Divide hot soup equally between 4 to 6 bowls and garnish with fresh cilantro.
Notes
If you do not have Thai-style green curry paste, you can substitute a bit of garlic chili sauce, Sriracha or a pinch of chili flakes. Adjust quantity to taste.
Courses Soup
Recipe by Northwest Edible Life at https://nwedible.com/carrot-soup-green-curry-coconut-milk/