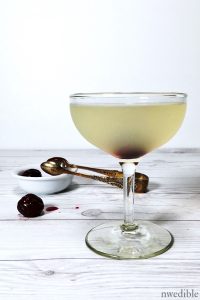 The Corpse Reviver No. 2 Cocktail
Yield 1
A classic cocktail spiked with the herbal notes of absinthe.
Ingredients
¾ oz Gin
¾ oz Cocchi Americano
¾ oz Cointreau
¾ oz Lemon juice
1 tsp. Absinthe
Brandied cherry, to garnish (optional)
Instructions
Fill a shaker with ice. Measure the gin, Cocchi Americano, Cointreau, lemon juice and Absinthe into the shaker.
Cover and shake the cocktail hard for 15 to 30 seconds, then strain into a chilled cocktail glass. Garnish with a brandied cherry and serve immediately.
Courses Cocktail
Recipe by Northwest Edible Life at http://nwedible.com/the-corpse-reviver-no-2/