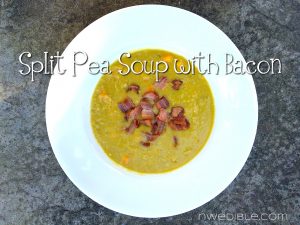 Split Pea Soup with Bacon
Yield 6
This soup is filling, hearty, inexpensive and got rave reviews from everyone in my family - even my kids!
Ingredients
2 tbsp olive oil
3 carrot, diced
1 large onion, diced
1 tbsp ground cumin
1 tsp ground ginger
kosher salt and freshly ground pepper
2-1/2 cups split green peas, picked over to remove any stones or debris and rinsed
8 cups water, chicken stock or vegetable stock
1 large lemon
1 pound bacon (optional, but really good)
Instructions
Heat olive oil in a large pot set over medium heat. Add carrot and onion and cook until onion is translucent, about 10 minutes.
Add cumin, ginger, salt and pepper to taste and split peas to the pot. Cook until spices are fragrant, about 2 minutes.
Add 8 cups water or stock to the pot and bring all to a simmer over medium-high heat. Adjust heat to maintain a gentle simmer and cook until split peas are completely tender, about an hour to 90 minutes.
When peas are very tender, whisk soup vigorously to break up some of the peas and thicken the soup. Add the zest and juice of one lemon to soup.
While soup is simmering, cut bacon crosswise into 1/2-inch wide strips. Cook bacon in a skillet set over medium heat until fat has rendered and bacon is crispy. Set aside.
To serve: ladle soup into bowls. Top with a generous sprinkling of crispy bacon.
Serve soup topped with bacon, if desired.
Recipe by Northwest Edible Life at http://nwedible.com/split-pea-soup/