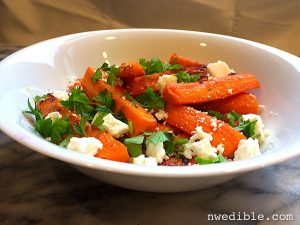 Roasted Carrots with Feta and Parsley
Yield 4 as a side
Ingredients
6 to 8 large carrots
2 tablespoons olive oil
Kosher salt to taste.
Zest and juice of one lemon
2 oz. good feta cheese.
Several stems Italian flat leaf parsley, rough chopped.
Instructions
Preheat oven to 475-degrees.
Scrub and peel carrots, then slice each carrot into large matchsticks by cutting each carrot in half lengthwise, and cutting each half into quarters lengthwise.
Toss the carrot sticks with the olive oil, salt, and the zest of the lemon until evenly coated. Slice the lemon in half and set aside for later.
Scatter the carrots in an even layer on a parchment-lined sheet pan.
Roast the carrots for 15-25 minutes depending on the size of your carrot sticks. The carrots should be tender all the way through but not mushy, and should be nicely caramelized where they were sitting on the sheet pan.
Squeeze the juice of half the reserved lemon over the hot roasted carrots and transfer to a wide serving bowl. Crumble the feta over the carrots and sprinkle with chopped parsley.
Serve right away.
Recipe by Northwest Edible Life at http://nwedible.com/roasted-carrots-with-feta-and-parsley/