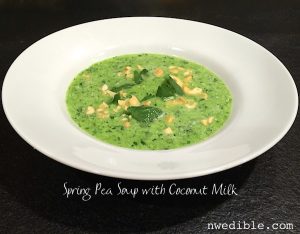 Spring Pea Soup with Coconut Milk
Yield 6
Ingredients
1 tbsp. coconut oil or olive oil
1/2 white onion, peeled and rough chopped
1 large clove garlic
1 tablespoon peeled, minced fresh ginger
1 bunch cilantro, leaves and stems separated and rough chopped
4 cups water
1-2 tbsp fish sauce or kosher salt, or more to taste.
1 can full-fat coconut milk
2, 12-oz. bags frozen shelled peas
Juice of 1 medium lime
To serve (optional, but nice)
Instructions
Heat coconut oil in a large pot set over medium heat. Add chopped onions, garlic, ginger, and the tender stems of the cilantro to the coconut oil. Cook until onion is tender and translucent, about 5-7 minutes. The mixture should be very aromatic.
Add water, fish sauce or kosher salt and coconut milk to the onion mixture. Bring all to a simmer.
Add frozen peas and cook until tender but still bright green, about 4 minutes. Add in the lime juice and half the chopped cilantro leaves. Reserve half for garnish.
Remove soup from heat just after adding lime and cilantro and puree soup with an immersion blender until smooth.
For best color, serve right away, garnished with reserved cilantro leaves, and chopped cashews.
Recipe by Northwest Edible Life at http://nwedible.com/pea-soup-with-coconut-milk/