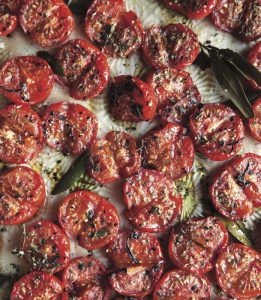 Oven-Roasted Herb Confit Tomatoes
Ingredients
5 pounds thick-fleshed Roma or other canning-type tomatoes
10 large cloves garlic, peeled
¼ cup extra-virgin olive oil, divided
Kosher salt and freshly ground black pepper
Fresh or dried herbs, such as thyme, oregano, basil, or bay leaf
Instructions
Preheat the oven to 250 degrees F. Get a big sheet pan (or several, if you have a lot of tomatoes and a big oven) and line it with parchment paper. Drizzle 2 tablespoons of olive oil over the parchment.
Wash and core the tomatoes. Slice them in half lengthwise, and set the halves on the prepared sheet pans, seed cavities facing up. The tomatoes can be very snug on the pan because they will shrink as they cook, but they should be arranged in a single layer.
Scatter the garlic over the tomatoes, then drizzle the remaining 2 tablespoons oil over the tomato halves. Sprinkle the tomatoes generously with salt and pepper, then scatter whatever herbs you might have over the top—several sprigs of fresh thyme seem nearly essential, some oregano and basil are nice. If you have a bay leaf, drop that onto the pan, too. If you have no fresh herbs, a pinch each of dried thyme and dried basil will do just fine.
Put the tomatoes in the oven and roast for several hours—at least 3 but up to 7—depending on how big the tomatoes are and how soft and caramelized you like them. Roast until the tomatoes are collapsed and tender throughout and beginning to brown and caramelize nicely on the bottom.
Pick out anything that looks unpleasant to eat like an herb twig or bay leaf, then fill wide-mouthed mason jars or plastic freezer bags with the tomatoes, garlic, and any herbs clinging to them. Divide all the lovely infused roasting oil from the sheet pan evenly into the jars with the tomatoes.
Lidded tightly, the tomatoes will keep in the refrigerator for several days, and in my home a jar never lasts that long. I freeze most of the confit in widemouthed pint-size jars. If you make sure the tomatoes are submerged in juices and oil (add an extra glug of olive oil to the jar if needed) and press a layer of plastic wrap onto the tomatoes before lid- ding and freezing them, they will keep for at least 6 months. If you use freezer bags, simply squeeze out as much air as possible before sealing.
Recipe by Northwest Edible Life at http://nwedible.com/oven-roasted-herb-confit-tomatoes/