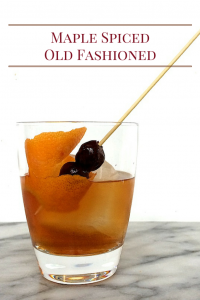 Maple Spiced Old Fashioned
Yield 1
Ingredients
For The Maple Spiced Simple Syrup
1 cup water
1/4 cup maple syrup
1/4 cup sugar
2 tablespoons whole allspice berries
1 tablespoon black peppercorns
1, 2" long stick cinnamon, broken into pieces
2 star anise pods
For The Maple Spice Old Fashioned
2 oz Bourbon or Rye Whiskey
1 1/2 - 2 teaspoons Spiced Simple Syrup, to taste
2-3 generous dashes aromatic bitters
To Garnish
1 large curl of orange zest
2 brandied cherries
Instructions
Make The Maple Spiced Simple Syrup
Add the water, maple syrup, sugar and all spices to a very small saucepan. Bring to a simmer. Stirring occasionally, simmer until the liquid has reduced to about 3/4 cup volume. While the syrup is warm, strain the syrup off the spices. You'll have about 1/2 cup of finished syrup. Allow the syrup to cool.
The syrup should be thick but still pourable when it cools, like honey or corn syrup. If it has started to solidify like a hard caramel, just add a bit more hot water and rewarm the syrup while stirring to thin it out.
For The Cocktail
To a shaker filled with crushed ice, add the bourbon, Maple Spiced Simple Syrup, and bitters. Stir well until the drink is nicely chilled, about 20 seconds, then strain the cocktail into an old fashioned glass.
Add a jumbo cube of ice, rub the orange zest around the rim of the glass, and garnish the drink with the orange zest and the brandied cherries.
Recipe by Northwest Edible Life at http://nwedible.com/maple-spiced-old-fashioned-cocktail/