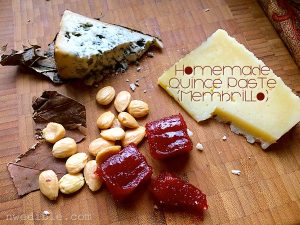 Quince Paste (Membrillo)
Ingredients
4 pounds quince
about 3 pounds sugar
3 lemons
Instructions
Peel and core quinces and cut into large chunks.
Put quinces into a large stockpot and just cover with water. Bring water to a simmer and cook, covered, until quinces are fully tender, about 30 minutes.
Drain quinces, reserving cooking liquid for another purpose if desired. The quince cooking liquid is flavoful and high in pectin.
Weigh drained quince pieces. You should have about 3 pounds quince.
Transfer quinces to a food processor and puree until totally smooth.
Return quince puree to the empty stockpot and add as much sugar by weight as you have quince puree. If you have more or less quince puree, adjust your sugar quantity accordingly.
Add the juice of three lemons (or one lemon per each pound of cooked quince) and stir quince, sugar and lemon together.
Bring quince mixture to a simmer over medium heat. Stir often.
The quince puree will cook for several hours, reducing until it is quite thick and becoming darker and more red in color. Adjust heat as needed and stir frequently to prevent sticking or scorching.
The quince paste is done when it is a jewel-like reddish-brown and a spatula drawn through the mix leaves a distinct trail that takes several seconds to close up.
Scrape reduced quince paste to a parchment-lined 9x12-inch pan. Smooth quince paste into an even layer and let cool to room temperature.
Refrigerate quince paste uncovered until cold, then cut paste into sections, or wrap well and store in the refrigerator.
Recipe by Northwest Edible Life at http://nwedible.com/how-to-make-quince-paste/