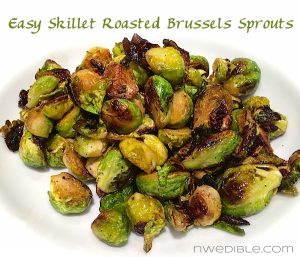 Easy Skillet Roasted Brussels Sprouts
Yield 6 -8
A hot cast iron skillet, a little cumin and lots of salt and olive oil turns Brussels sprouts into something deliciously snack-worthy.
Ingredients
2 pounds Brussels sprouts
1/4 cup good olive oil, divided
1 teaspoon kosher salt, or more to taste
1 teaspoon ground cumin
1/2 teaspoon freshly ground black pepper, or to taste.
Instructions
Rinse and trim Brussels sprouts. Cut off the bottom end and halve sprouts.
Toss Brussels sprouts in a bowl with half (2 tablespoons) of the olive oil, salt, cumin and pepper.
Heat a large cast iron skillet or pan over medium heat. Add the remaining 2 tablespoons olive oil to the pan. When it shimmers, add Brussels sprouts to skillet and spread sprouts out in a single layer.
Allow sprouts to cook without stirring or shaking the pan for 3 to 5 minutes, until a nice caramelized sear has developed on the sprouts.
Toss the sprouts, trying to turn most of them brown-side up in the pan, and finish cooking on the other side, about another 8 to 10 minutes. Adjust heat as necessary and stir occasionally so sprouts cook without burning.
When done, the sprouts should be tender all the way through but not mushy, and richly brown in places. Add additional salt as desired and serve right away.
Courses Side Dish
Recipe by Northwest Edible Life at http://nwedible.com/easy-skillet-roasted-brussels-sprouts/