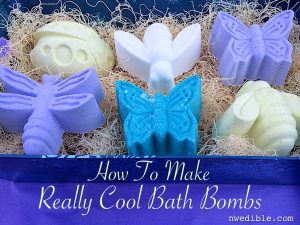 DIY Really Cool Bath Bombs
Ingredients
1 cup citric acid
2 cup baking soda
1-1/2 cup cornstarch
1/2 cup epsom salts
2-4 tablespoons water
Small squeeze of food coloring (Optional)
10 drops essential oil, or more as desired (Optional)
Equipment: suitable mold for bath bombs
Instructions
In a large bowl, mix together the citric acid, baking soda, cornstarch and Epsom salts.
With one hand, stir dry mix constantly with a whisk. With other, drizzle in the water until the mixture just clumps together. If you start to see fizzing, that means there is too much water in one area and you should stir that area quickly to distribute out the moisture.
Add just enough water so that the mix holds together when you squeeze it in your hands.
If coloring your bath bombs, use a few drops of food coloring to achieve the desired shade.
If scenting your bath bombs, add in the essential oil a drop or two at a time to achieve the desired smell.
Pack bath bomb mix into molds very firmly and smooth the surface of each bath bomb.
Unmold bath bombs onto a sheetpan or other flat, dry surface.
Let bath bombs dry overnight.
Carefully package as desired for gift giving or your own personal spa day.
Recipe by Northwest Edible Life at http://nwedible.com/diy-bath-bombs/