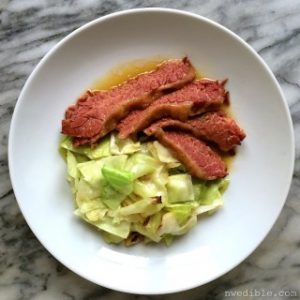 Corned Beef Recipe
Yield 4 to 6
Ingredients
For The Brine
1 cup kosher salt
1/2 cup organic sugar
1 1/2 teaspoons pink salt
2 teaspoons black peppercorns
1 teaspoon mustard seeds
2 teaspoons coriander seeds
1 teaspoon hot red pepper flakes
1 small cinnamon stick, crushed or broken into pieces
2 bay leaves, crumbled
7 whole cloves
1 tsp dried garlic, or several fresh garlic cloves, peeled and smashed
1/2 teaspoon ground ginger
3 star anise pods
2 quarts water
To Complete The Recipe
1/2 brisket, about 4 pounds, trimmed
4 cups apple juice or apple cider
2 star anise pods
4 whole cloves
Instructions
Make The Brine
Combine the kosher salt, sugar, pink curing salt and all spices in a large food-safe plastic tub or bowl. Bring 2 quarts water to a boil and add to the brine mixture. Stir well to ensure all the salt and sugar dissolves, then set the brine aside to cool to room temperature.
Cure The Beef Brisket
Fully submerge the trimmed beef brisket in the cool brine. Cover tightly, then transfer to the refrigerator.
Brine beef brisket for at least three days, and up to a week. Once per day, stir the beef in the brine and make sure it's fully submerged.
Braise the Corned Beef
Adjust the oven rack to the lower-middle position and preheat the oven to 325 degrees.
Removed the corned beef brisket from the brine and rinse well.
Add the brisket, apple juice, star anise pods and cloves to a large, oven-proof pot or Dutch oven. Bring the apple juice to a gentle simmer over medium heat, then cover brisket with a parchment drop lid (optional) and the tight-fitting lid from the pot or Dutch oven.
Transfer the pot to the oven and cook for about 2 hours, until the corned beef brisket is falling-apart tender.
Slice brisket across the grain and serve hot, with sauteed cabbage and potatoes if desired.
Recipe by Northwest Edible Life at http://nwedible.com/corned-beef-recipe-tutorial/