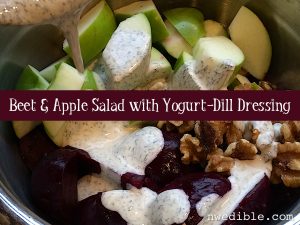 Beet and Apple Salad with Yogurt-Dill Dressing
Ingredients
For The Salad
2 pounds red or yellow beets, or a combination
2 medium-sized, tart apples, like Granny Smith
1/2 cup whole walnuts
For the Yogurt-Dill Dressing
1/2 cup strained (Greek-style) plain yogurt
1 tablespoon dried dill leaves (or two tablespoons fresh, chopped dill leaves)
2 tablespoons apple cider vinegar
1 tablespoon maple syrup
Kosher salt and freshly ground pepper to taste
Instructions
Make dressing. Combine all ingredients in a small bowl, cover and refrigerate for at least an hour (and up to two days) while you roast beets. This allows the flavors to marry and the dried dill to rehydrate.
Preheat the oven to 400*F. Scrub beets and trim away all but 1-inch of greens, but do not peel. Place beets on a baking sheet lined with a large sheet of foil. Fold foil up and over beets, and crimp foil edges together to make a packet. Roast beets for 45-90 minutes, depending on size, until fully tender all the way through. When beets are tender, a small skewer or paring knife inserted into the center of a beet should not meet resistance.
Let beets cool, then rub skins off beets with an old, lint-free rag or with very clean hands. Beets can be prepared up to this point as far as two days ahead and kept chilled.
Slice cool beets into chunky wedges, and cut apple into large cubes. Add beets, apple and walnuts to a medium bowl.
Pour enough reserved yogurt dressing over the salad ingredients to lightly coat and stir all together. The salad will turn bright pink from the red beets. For a more composed look, you can scatter the salad ingredients on a plate and drizzle the dressing over.
Recipe by Northwest Edible Life at http://nwedible.com/beet-apple-salad/