This time of year is always rewarding; almost overnight things seem to morph from "expanse of wood chips" to "a zillion shades of green." The days are getting long, temperatures are slowly warming, and perennials and quick-germinating herbs and flowers are responding by popping up everywhere.
With a few notable exceptions (looking at you, bindweed), most of what comes up at this time of year is very welcome. Here are ten reliable, low-care, self-propogating herbs and flowers I can count on to take over my garden every spring.
1. Oregano
My favorite easy, herby ground-cover, oregano has spread via seeds and runners from a modest original planting to cover large swaths of my garden. Although there is no way I could use all the oregano that now grows here, I encourage the plant everywhere I can. It stabilizes soil and softens path edges, looks fresh with hardly any effort from me, and the bees adore its tiny purple flowers later in the season.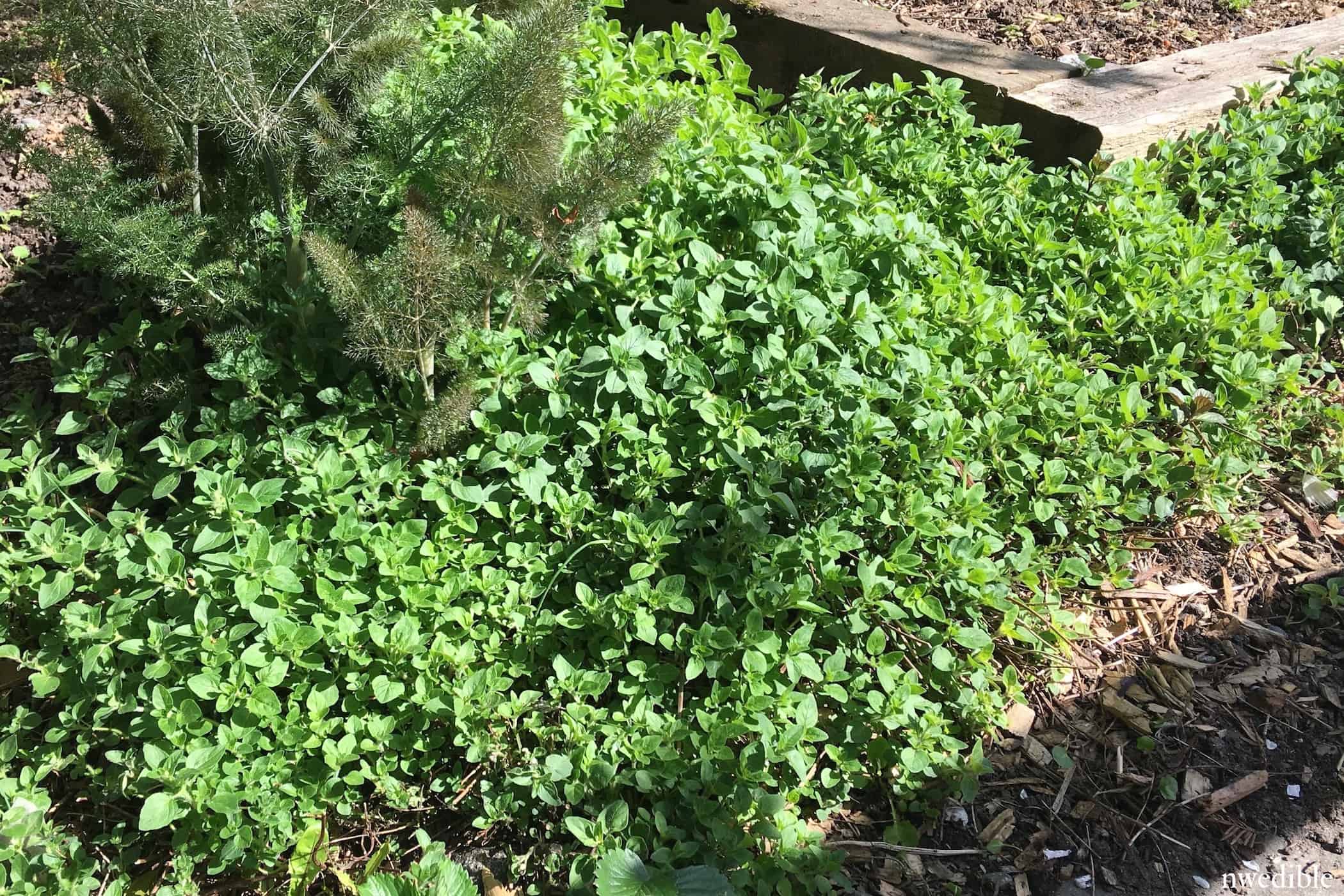 2. Calendula
Also called Pot Marigold, this is a cheery little flower that I planted once about 12 years ago, and have been enjoying ever since. A reliable self-seeder, calendula is highly valued as a multi-use herb. The flower petals are edible and add a lovely color to salads, or can be dried and ground to use as a replacement for saffron. They are also highly prized for skin care; oils or salves made with calendula gently soothe irritated or damaged skin.
Multiple religious traditions have valued calendula. The common name of the flower comes from "Mary's Gold" because calendula was used in some early Catholic events. Hindu and ancient Greek and Roman religious rituals also made use of this flower.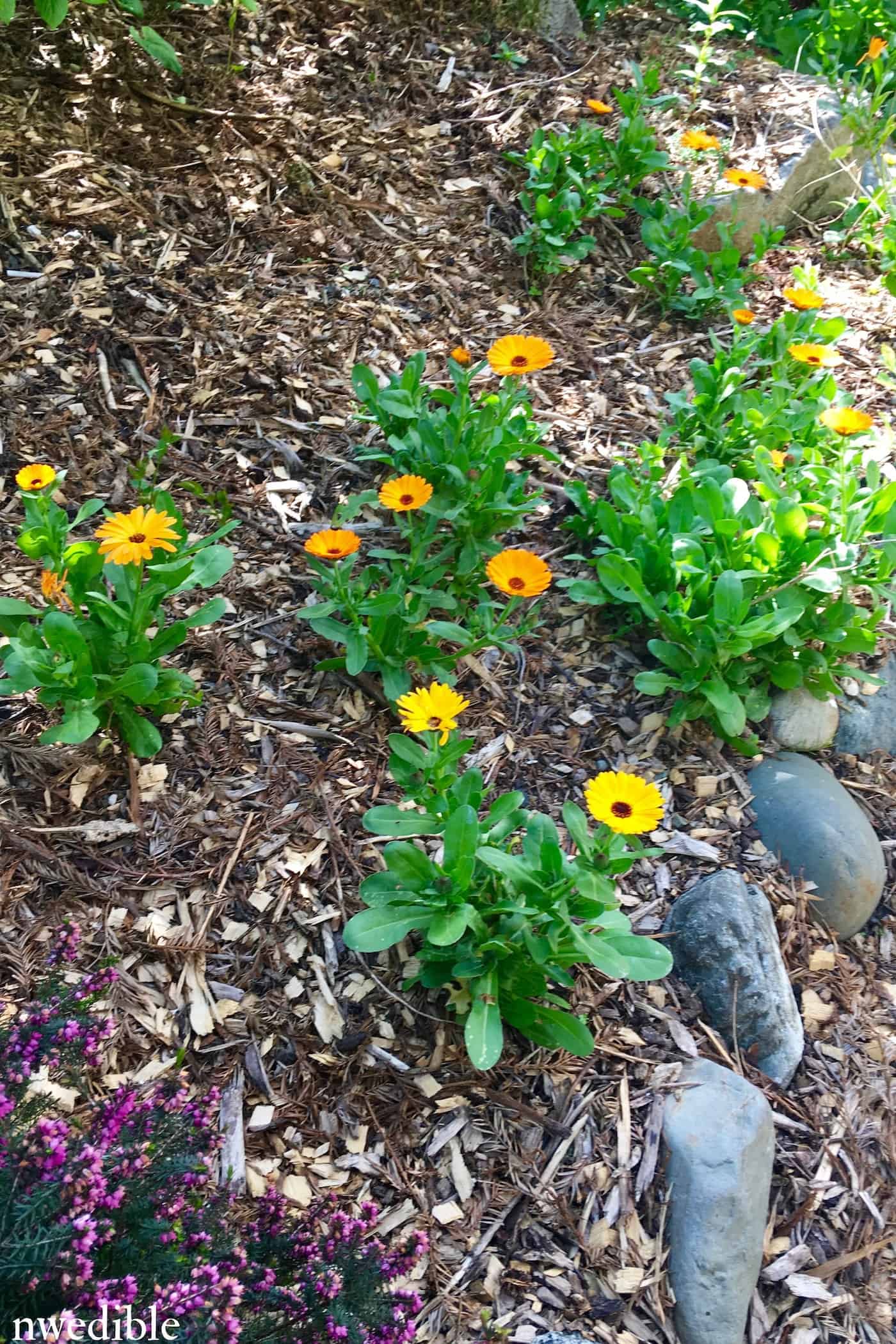 3. Garden Angelica
Angelica is a big, beautiful, polite self-seeder with stunning puffy blooms that drive bees crazy. Used medicinally and culinarily, angelica flavors teas and liquors, and is used in confections and pastries. It is in the Apiaceae family, which also includes garden favorites like carrot, dill, celery and fennel. Sounds great, right? Well, there's a little catch….
The Apiaceae family also includes some of the most poisonous plants in the world, Poison Hemlock (Conium maculatum) and Water Hemlock (Cicuta). You may know Poison Hemlock as the plant that killed Socrates. If you live in the Pacific Northwest, you should also know Water Hemlock, since it grows extremely well here, and will totally kill you dead. I'm not kidding – some kids rubbed Water Hemlock on their skin and died from that. There are reports of kids using the hollow stems of Hemlock or Water Hemlock as a straw or whistle and dying from that.
Garden Angelica is fairly similar in appearance to Water Hemlock, and somewhat similar in appearance to Poison Hemlock. If you see something like this plant in your garden and you didn't plant it and can't positively identify it, don't just assume it's Angelica. If you see something kinda like this plant in the wild, really don't assume it's Angelica. My rule of thumb with any plant that makes white, umbel-shaped flowers is, if I don't know exactly what it is, I assume it might kill me. So far, I'm not dead.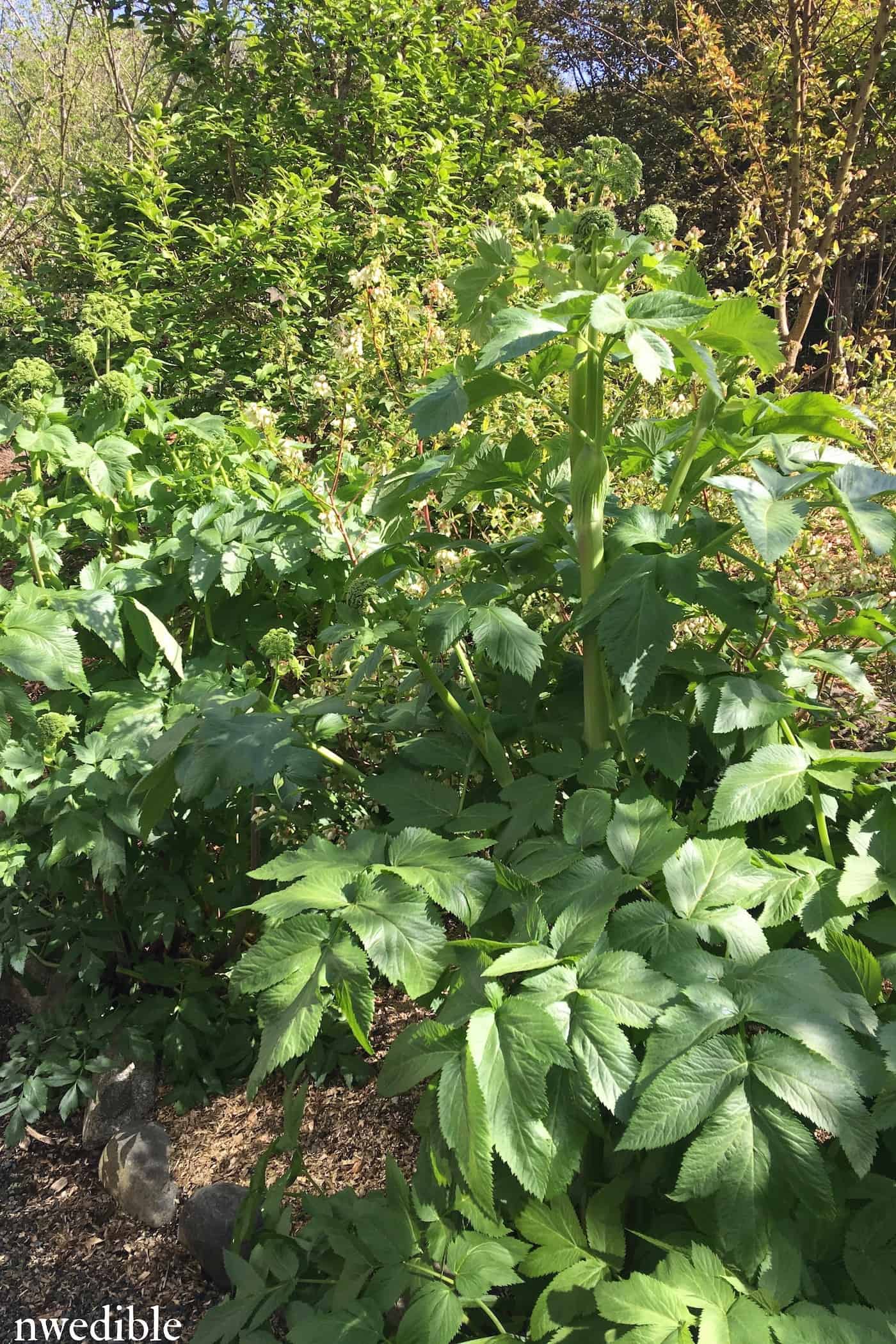 4. Lemon Balm
I once read a magazine article by a woman who was oh-so-proud of herself for managing to divide and propagate her lemon balm. Get your green thumb kudos where you can I guess, but from my perspective getting lemon balm to not take over everything in your garden is the real accomplishment.
I have more of this lightly lemon scented mint-relative than I really care for. It's all over my yard. Every year, some new clump shows up and begins to grow. At current rate of growth, I estimate I have about 15 months until all the clumps converge and begin a coordinated assault on my living room. In 2 years, I estimate the lemon balm will take on a rudimentary consciousness and begin to speak. Shortly after that, I anticipate it will be elected the next President of the United States.
On the plus side, it's nice in tea and as a temperate climate alternative to lemon grass.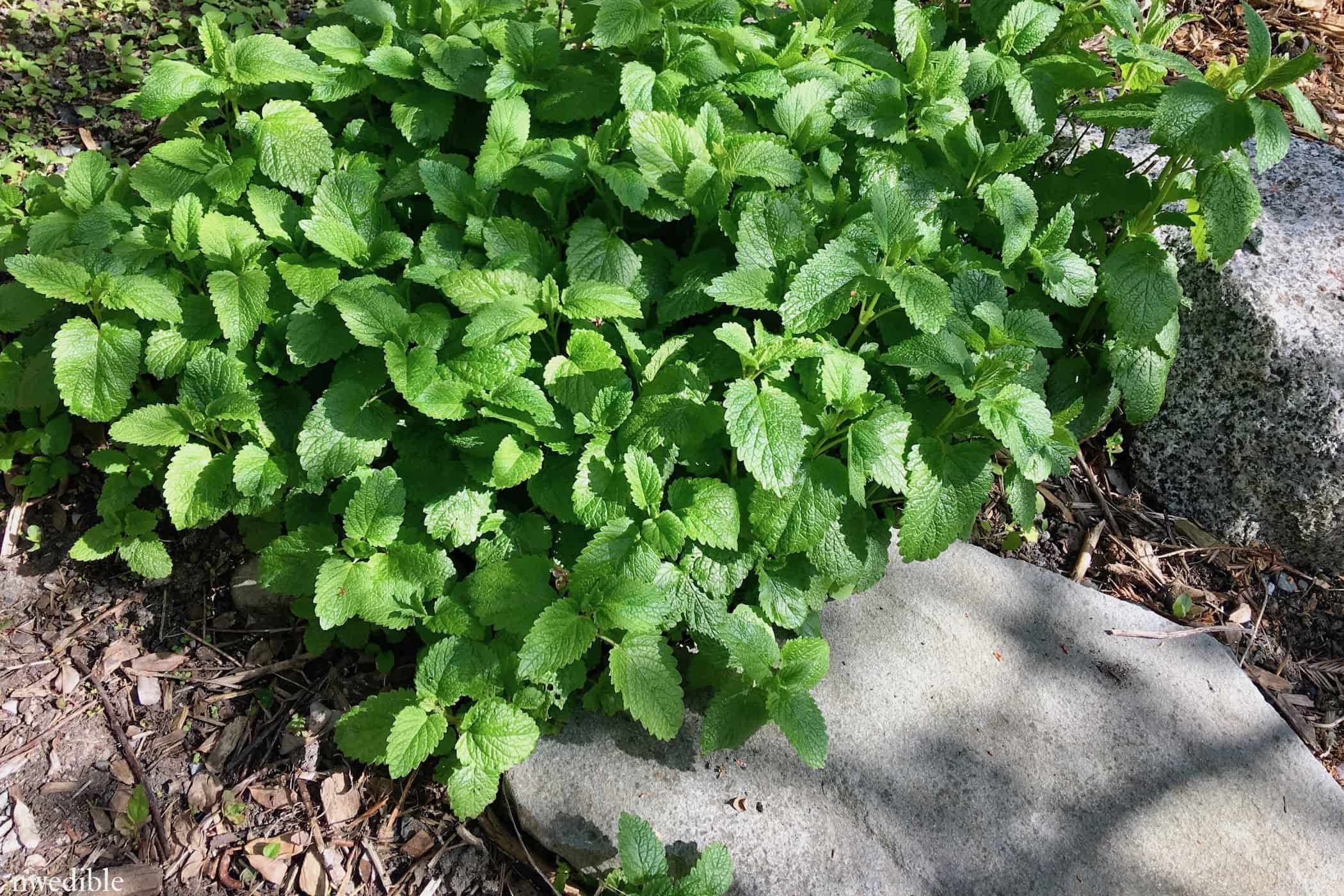 5. Comfrey
Because I started with a sterile variety of Russian Comfrey called Bocking 14, I don't have to worry about this plant self-seeding everywhere. However, with just a little help from me in the form of transplanted root cuttings, it's spread far beyond it's original planting and now my yard sports probably 30 comfrey plants that all start growing eagerly in the spring.
I am naturally suspicious of anything that people claim as a cure-all, and comfrey has such a huge fan club in the permaculture world that when I planted my original root cutting I was doubtful it could possibly live up to the hype.
Guys…it lives up to the hype. Go plant comfrey everywhere. It's my favorite plant too, now.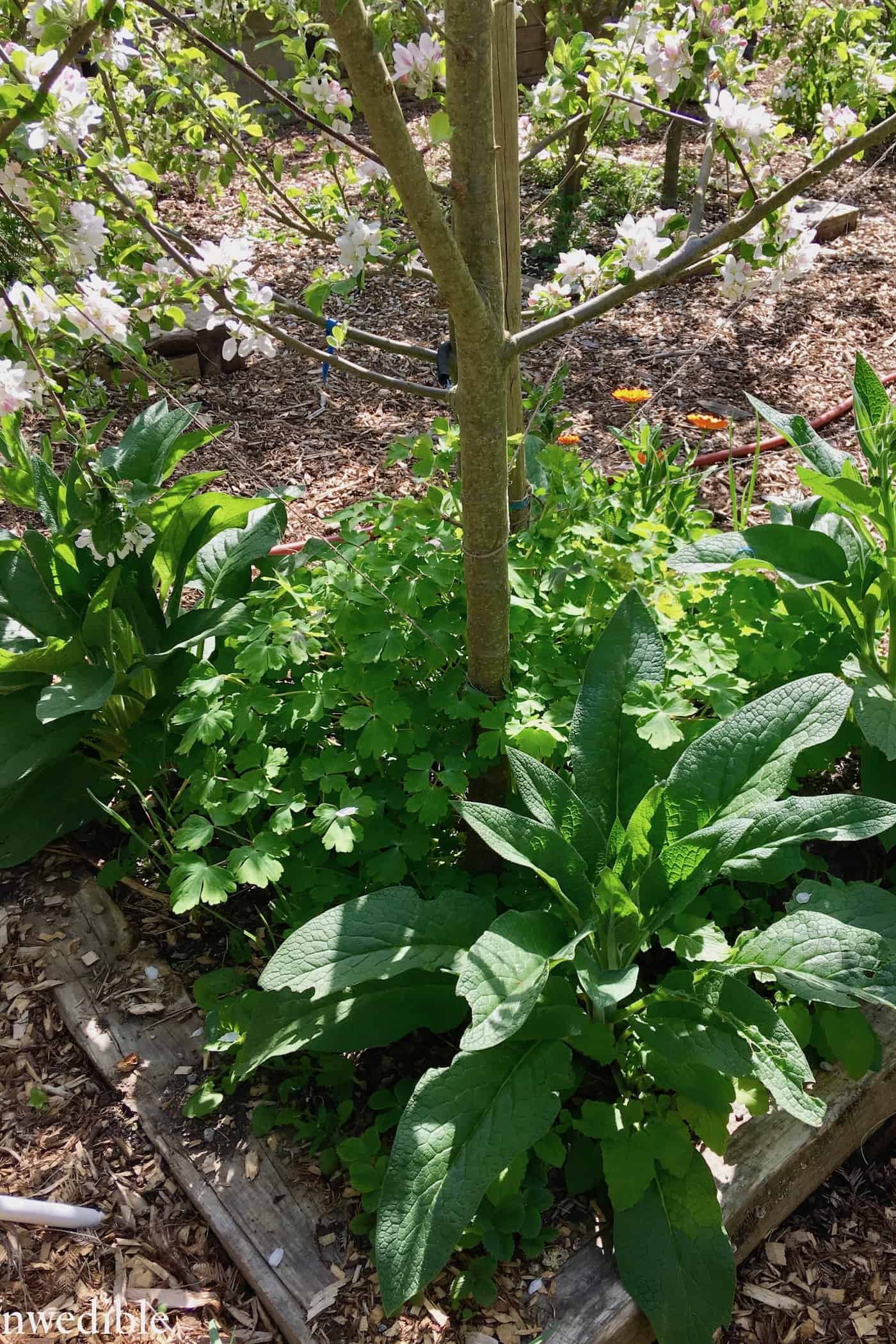 6. Bronze Fennel
Borderline invasive through self-seeding, but I like it and the beneficial insects like it, so it gets to stay. Bronze Fennel has a soft, feathery leaf with a lovely color that seems to play well with whatever it ends up next to (look at the fennel and chive combo below – that's pretty, right?!) The flavor is sweet anise – fans of black licorice will love it, but even licorice haters may like this herb in teas, beverages, added to salads, or used with seafood. Let it flower and beneficials will love you forever.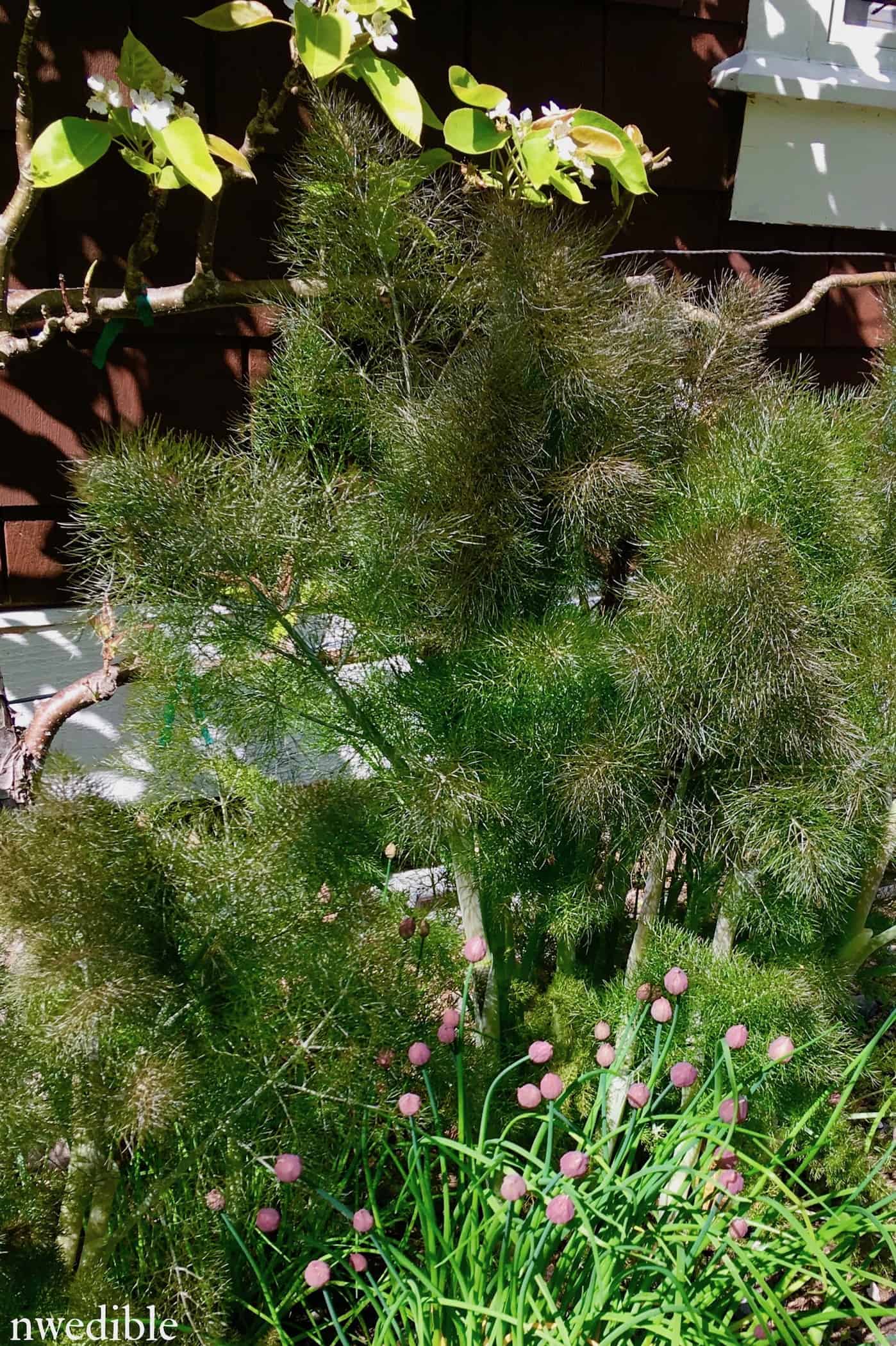 7. Shasta Daisy
Simple white petals surround a yellow center – when you picture a daisy you are almost certainly picturing a Shasta Daisy. These self-seeding perennials can be divided by the gardener to form deliberate drifts of flowers, or let them go to seed as I do and random clumps of daisies will find themselves a home without any work from you. Just be careful if you are near a sensitive ecological area – sometimes they self-seed a little too well.
I know of no real use for Shasta Daisies – you can't eat them and they don't have any herbal or medicinal value I'm aware of – but sometimes simple and low-maintenance and pretty is enough justification. The flowers make a fine cut flower, just check for bugs before you bring them inside.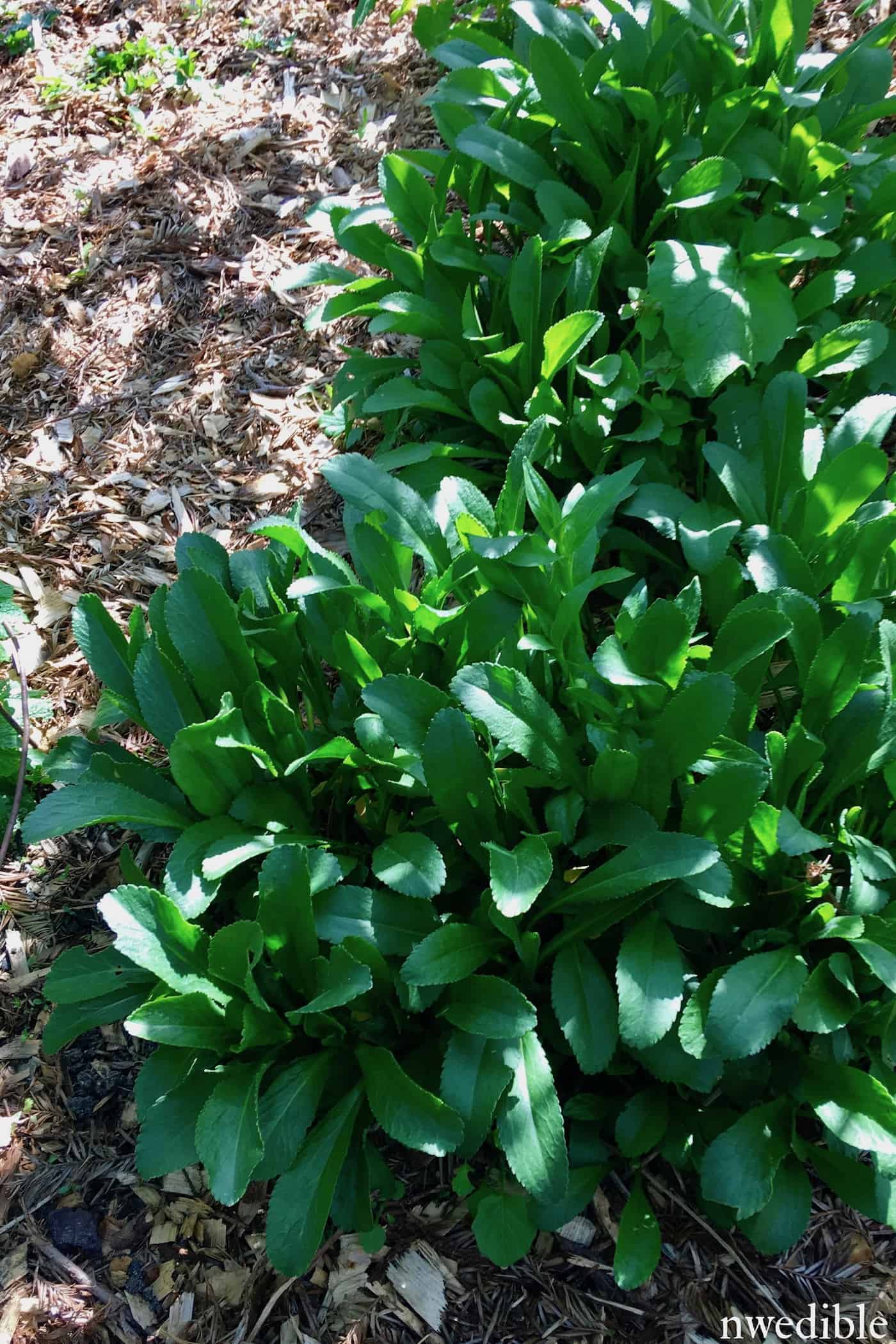 8. Mystery Sedum
Another plant that just showed up. If I had to guess, I'd say this is probably Sedum album, also called White Stonecrop. It's the "filler" of the succulent world, but I like it very much. I save all my elitism for vegetable seeds and have absolutely none left over for ornamental plants.
This sedum grows well in any little sunny, rocky nook it happens to find. It finds such locations on it's own quite frequently, but sometimes I help it along by pinching off a clump or two and dropping the cutting somewhere else, with decent sun and sharp drainage. When I say "drop", I mean that literally…transporting is transplanting, in the case of this sedum.
Clumps of this plant never really disappear in the winter, but every spring when I notice it, I'm quite sure it's leapt in size. The flowers are small and fairly subtle, but they appear on a little stretched-out sedum pedestal, held up above the rest of the low growing plant.
Apparently there are traditional herbal uses for some varieties of sedums, but I simply enjoy mine as a tough little no-work ground cover.

9. Strawberries
Strawberries grow very happily in dappled sun, but don't fruit particularly well there in my experience. Originally planted very deliberately, strawberries in my yard have long since escaped any semblance of control, and now runner as they will under fruit trees and shrubs. For this reason I consider many of the strawberries in my yard to be a kind of semi-naturalized ground cover, more than a managed crop for harvest.
As long as I transplant enough runners to places with enough sun often enough, there are always berries for me to harvest, so it works out.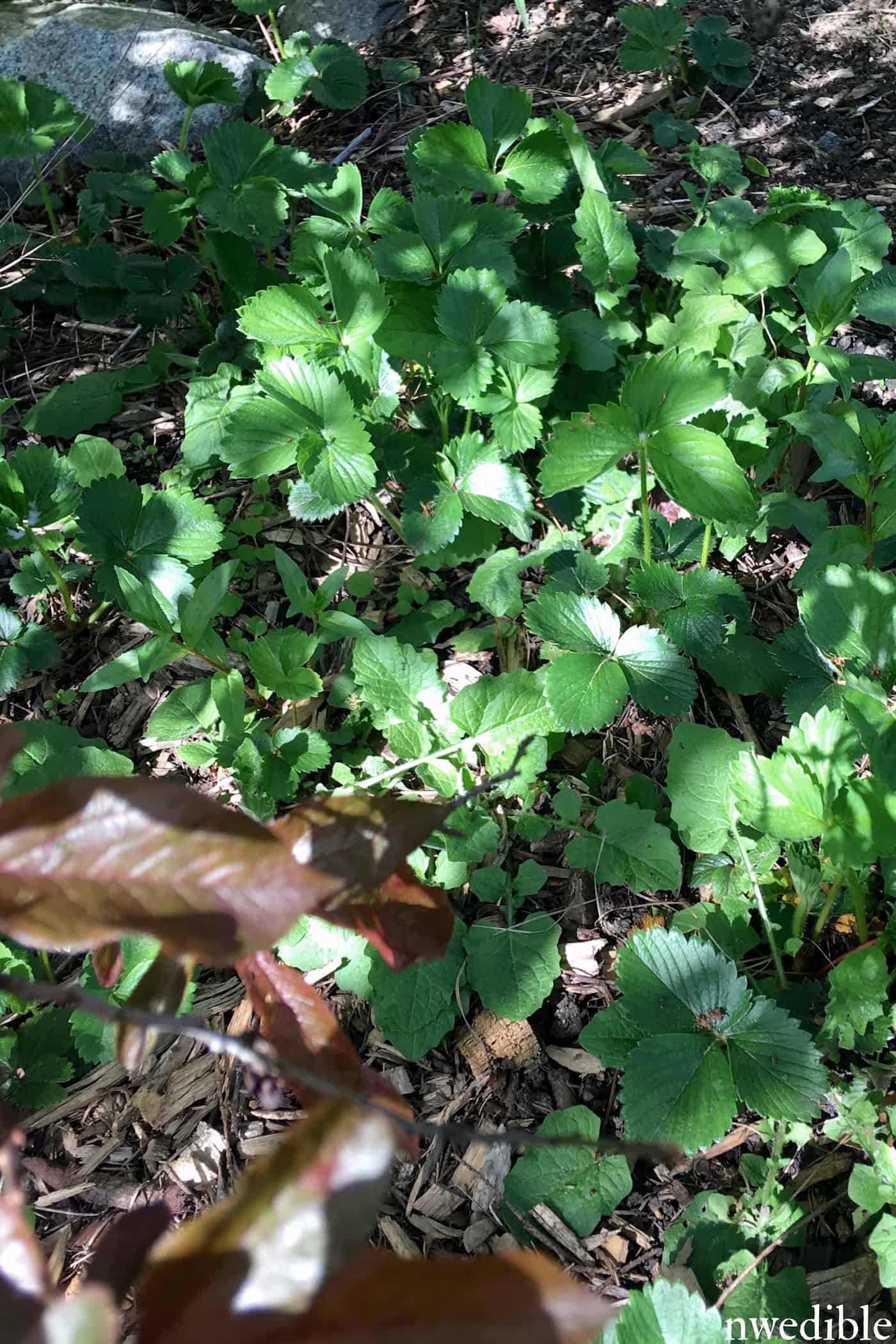 10. Aquilegia (Columbine or Granny's Bonnet)
A self-seeding hardy perennial, this columbine arrived several years ago, its seed transported by bird or wind or cat, I imagine. I'm so charmed by the shamrock-y leaves and pretty blue, bobbing-head flowers that show up later in the season. (Here's a photo of what those flowers will look like.) I cross my fingers every year that more columbine will decide to call my garden home.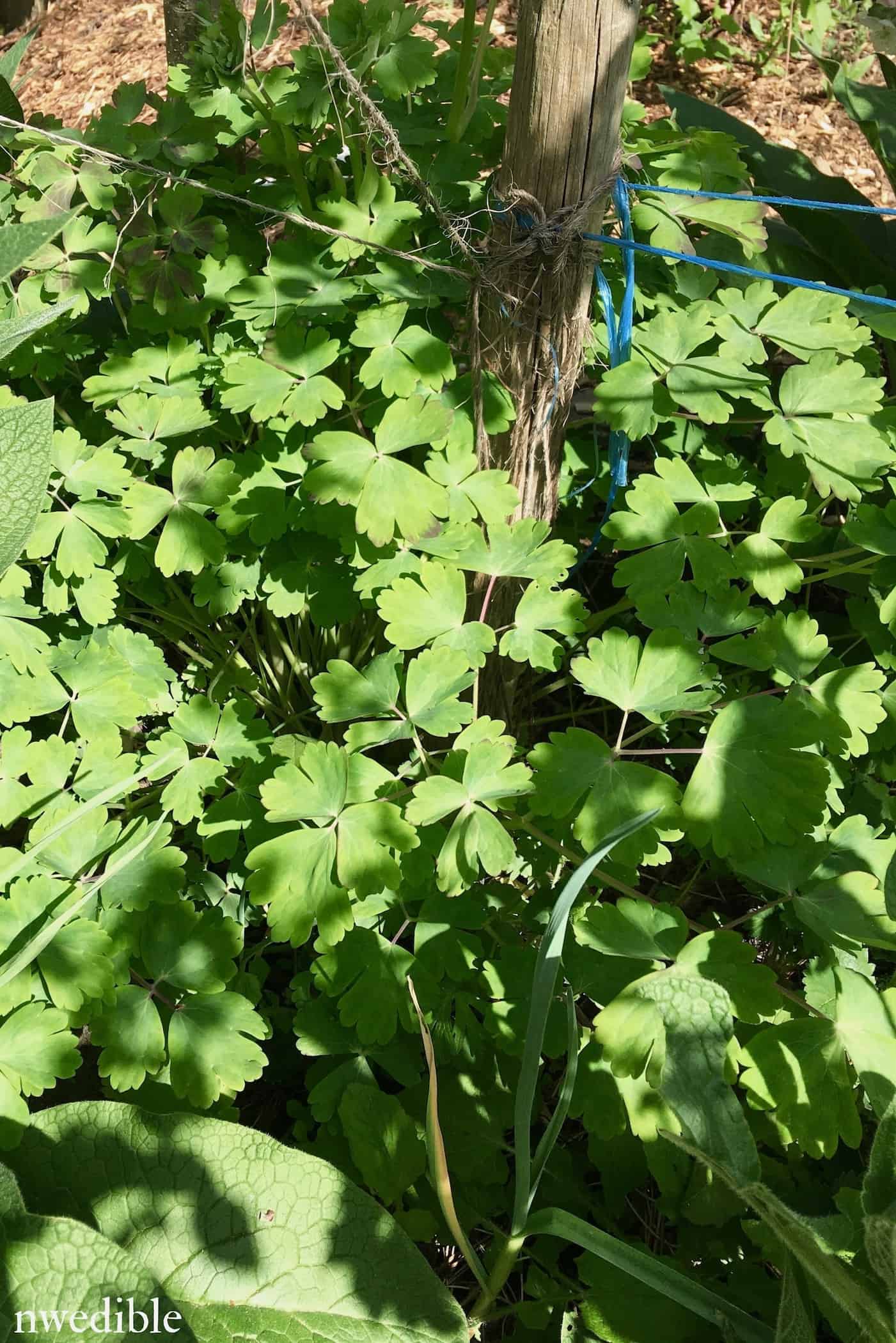 Sometimes They All Show Up Together
I'll admit to planting the comfrey growing under these young apple trees, but the calendula, columbine, and strawberries all joined the party on on their own. I think the garlic probably naturalized from a deliberate planting made many years ago.
In any event, this charming jumble of happy self-seeders and traveling perennials mostly just showed up here – and I'm so glad they did!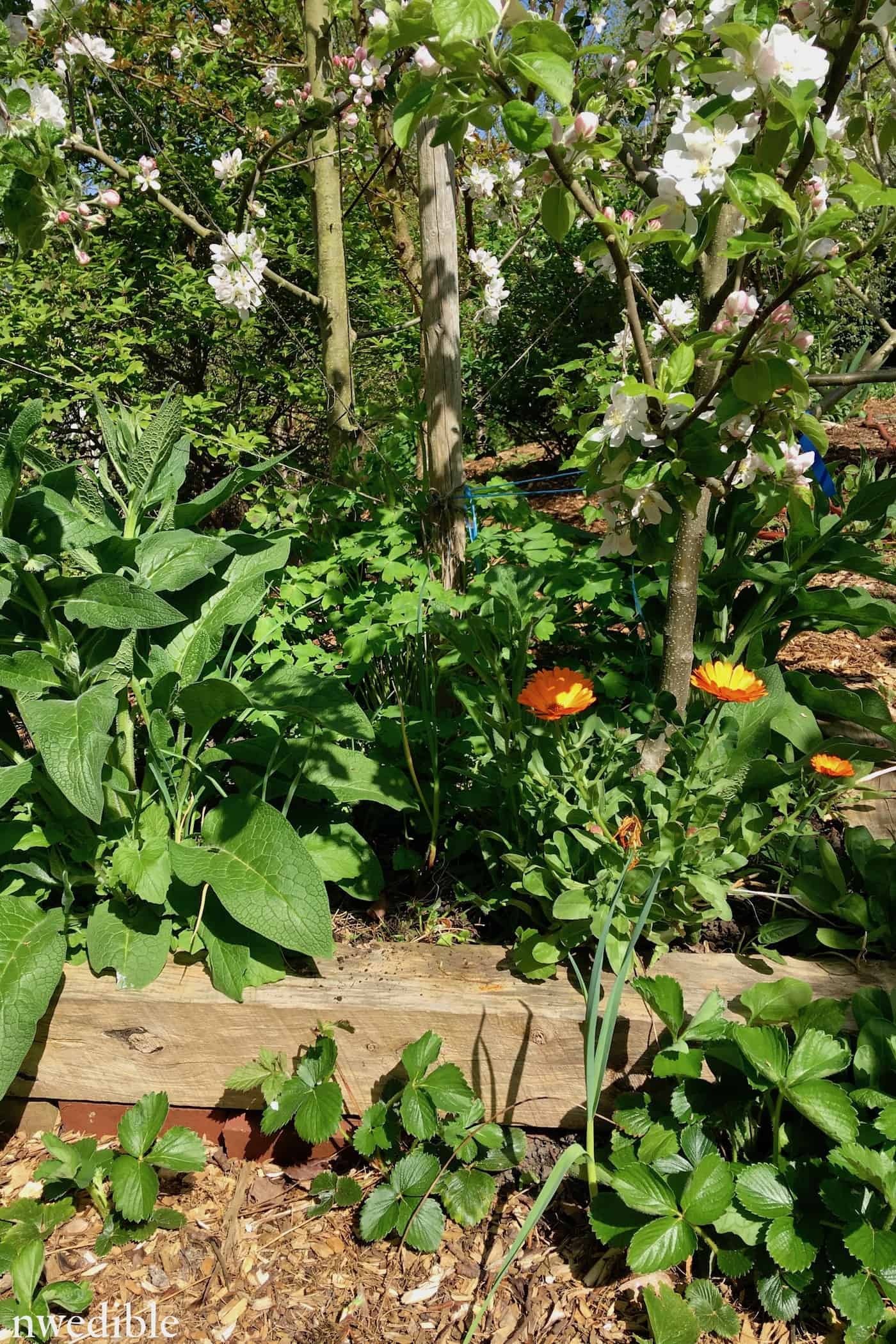 What plants are taking over your garden right now?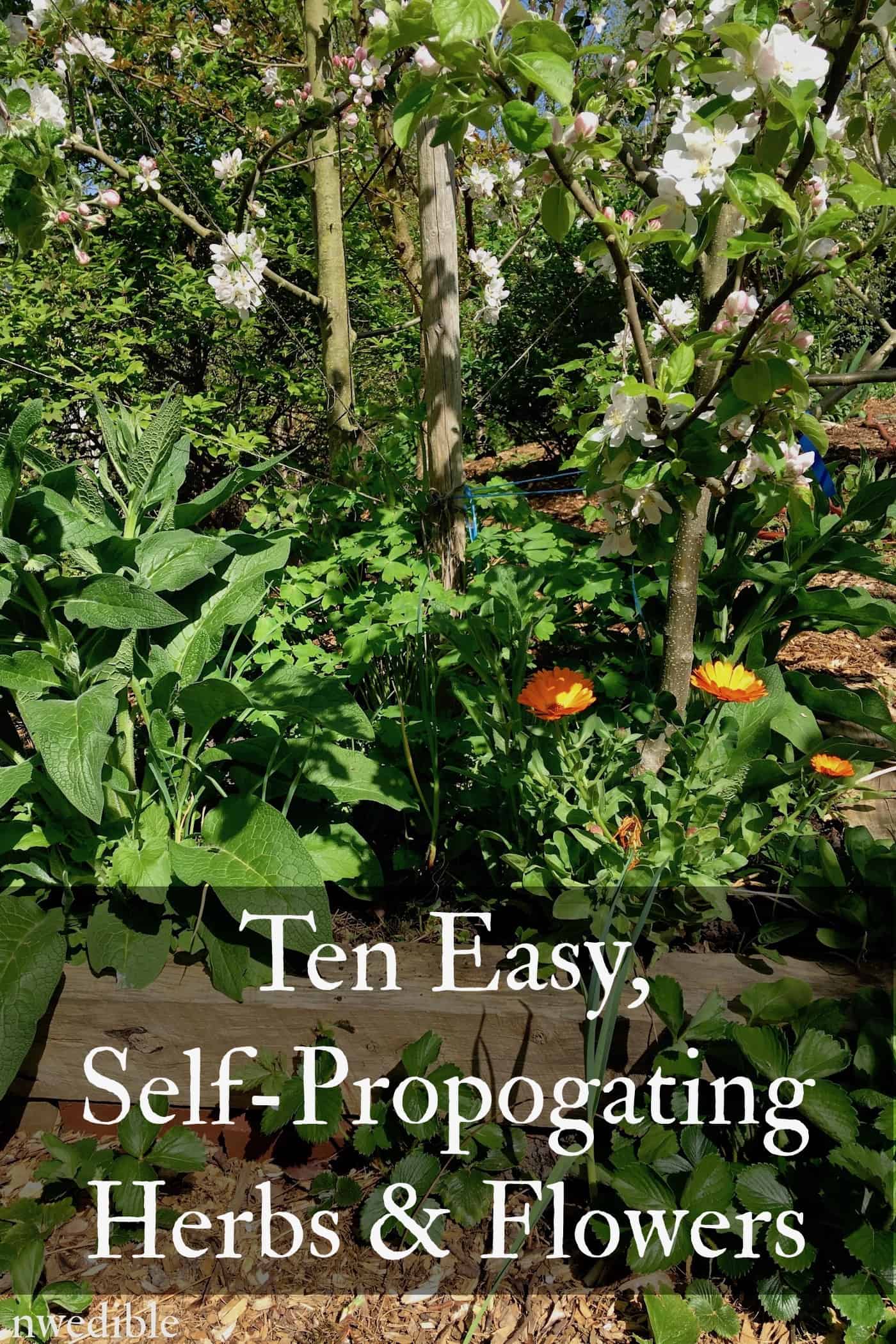 258